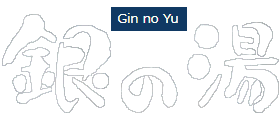 ●Opening hours
9:00am–9:00pm (last entry: 8:30pm)
●Closing days
Every 1st and 3rd Tuesday (open on national holidays, closed following day), Jan. 1
●Bathing fee
You need a towel for bathing

Adult (junior high and above)
¥550
Child (elementary school)
¥290
Infant
Free
2-Spa Ticket (Kin no Yu & Gin no Yu)

¥850
2-Spa + Museum Ticket
(Taiko-no-yu Museum)

¥1,000
Enjoy the β€œsilver waters" of Gin no Yu!
This is a carbonated radium spring.


Neuralgia, muscle pain, joint pain, stiff shoulders, motor paralysis, stiff joints, bruises, sprains, chronic digestive disorders, hemorrhoids, cold sensitivity, post-illness convalescence, fatigue, general health promotion, *high blood pressure, *arteriosclerosis, gout, chronic inflammation of the gall bladder, gallstones, chronic skin conditions, chronic feminine ailments, cuts, burns
*Indications for bathing at under 42Β°C

Body soap, 2-in-1 shampoo/conditioner and hairdryers are provided as amenities. Towels, sports towels, razors, toothbrushes, etc. are available for purchase.

Inquiries
β—†Arima Hon-Onsen Gin no Yu
1039-1 Arima-cho, Kita-ku, Kobe,
Hyogo 651-1401
TEL: 078-904-0256